Software tutorial/Extending R with packages
From Statistics for Engineering
The basic R installation is pretty comprehensive. One of the advantages of R though is that it is constantly being updated with new packages. A package is collection of functions and other information that expand R's capabilities.
For example, the built-in qqnorm(...) can be used to test if a sequence of values came from a normal distribution. However, there is, in my opinion, a better qq-plot function in the car library, called qqPlot(...), however the car library does not come pre-installed with R.
This section shows how to install extra packages and to keep your R installation up to date.
Keeping R up to date
Even if you don't want to install extra packages, you should keep the built-in packages up to date. You require an internet connection for this step.
The manual approach is to write, at the R command prompt:
Or you can follow these steps in RStudio:
Click on

Tools

on the top menu
Then choose

Check

for

Package

Updates...

If this is your first time updating, then you will have to select the closest update mirror (web site).
Typically you would choose the mirror that is geographically closest to you: for example

Canada

(ON)

. You can have R remember your choice for the future.
Click on the

Install

button to have R update all your packages to their latest version.
R will fetch and install any updates it requires.
Installing a new package
Installing a new package is easy; finding the package to install that does what you want is a little tougher: there are over 2000 packages available. Here are 2 ways I typically discover packages.
By browsing the hierarchy of packages at http://cran.r-project.org/web/views/
Googling: for example, the other day I needed to figure out how to plot time-series data nicely. I came across a page that recommended the

xts

package.
Click on

Tools

on the top menu
Choose

Install

Packages...

Type in the name of the package you found in the prior step.
Make sure you select the check box

Install

dependencies

Then click "Install"
Once the library is installed, you first need to load it. For example, to generate a nicer qq-plot using the car package:
data 

<-

 rnorm

(

100

)

  

# create 100 normally distributed values




library

(

car

)


qqPlot

(

data

)



will generate: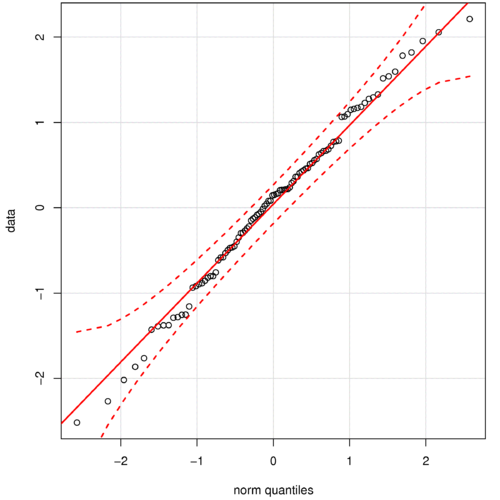 To see a list of all functions that are provided by a package: